WINNER 2019 Inverell Business Awards - Excellence in Business 6-14 Employees
Thanks to the Inverell Chamber of Commerce, Inverell Business Awards Night organizing committee, the judges and all sponsors. Congratulations to everyone who was nominated on the night in all categories.
But most of all thank you to Inverell as a whole for supporting the business that we love.
Big shout out to our entire team Luke, Tinka, Jake, Campbell and Marli for all their hard work and dedication!
And to who ever nominated us.... THANK YOU we definitely owe you a beer or two!
We think the smile on our faces below pretty much sums up our great night 😁
Excellence in Business 6-14 Employees WINNER: McMahon Structural
"McMahon Structural are a locally owned and highly reputable business within our community. Their passion and commitment to each project is second to none and is shown through their various awards, including HIA Northern NSW Home of the year in 2015.
Their continuous community involvement and loyalty to Inverell is recognized and appreciated.
McMahon Structural employ a professional and caring team in whom contribute to their respectful company values.
Catering to all clients and going above and beyond to deliver the highest of standard homes, McMahon Structural are always looking at ways to improve their overall business offering staff ample training and professional development.
Site supervisors and an efficient team allow Ben and Anka to collaborate with potential clients and suppliers to ensure the best finished product at the best price. "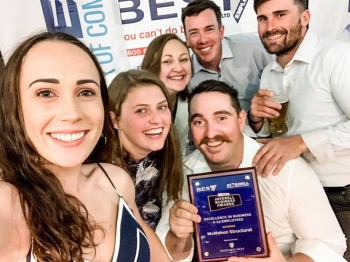 click for larger image