Bring on 2016
2015 was a big year for local builders McMahon Structural with the team winning the 2015 HIA Northern NSW Home of the Year. 2016 is shaping up to be just as exciting.
Owner Ben McMahon says "We are moving forward in 2016 with some new and innovative ideas and interesting projects".
The team wished to thank the Inverell community for their continued support and for their strong attendance at their Display Home and Open Days.
"Our first ever Display Home and Open Days received such a positive response. It was great to be able to share our passion for building with the wider community. We are looking forward to bring you some more exciting homes this year."
"If anyone is interested in custom designed house and land packages, investment opportunities or purchasing a block. Please get on contact with us for a free block to buy analysis" explains Ben.
For those of you interested in building a new home McMahon Structural have constructed a free brochure "The 7 biggest mistakes to avoid when building a new home" that can be downloaded from their website www.mcmahonstructural.com.au whilst there why not check out a few of their completed job galleries.
Ben "At McMahon Structural we believe our communication skills are what set us apart from other builders. We love working with you from day one with the selection of your block, through the design stage, construction and final completion. There has never been a better time to build."
For the answers to all your building questions contact Ben McMahon PH 0432423793.
Excert Inverell Times February 2016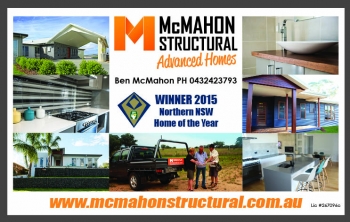 click for larger image